My Top-4 paddling destinations in Denmark 2.
Jacob Bols
Sea kayaking paradise
Sea kayaking in Denmark is easily accessible, due to the fact that no places in the country has more than 50 km to the coast line. Denmark has more than 7.000 km of coastline and several islands.
In this blog bost I will present the other 2 of my Top-4 (not ranked) favorite paddling destinations in Denmark. If you missed the first post, you can read it here.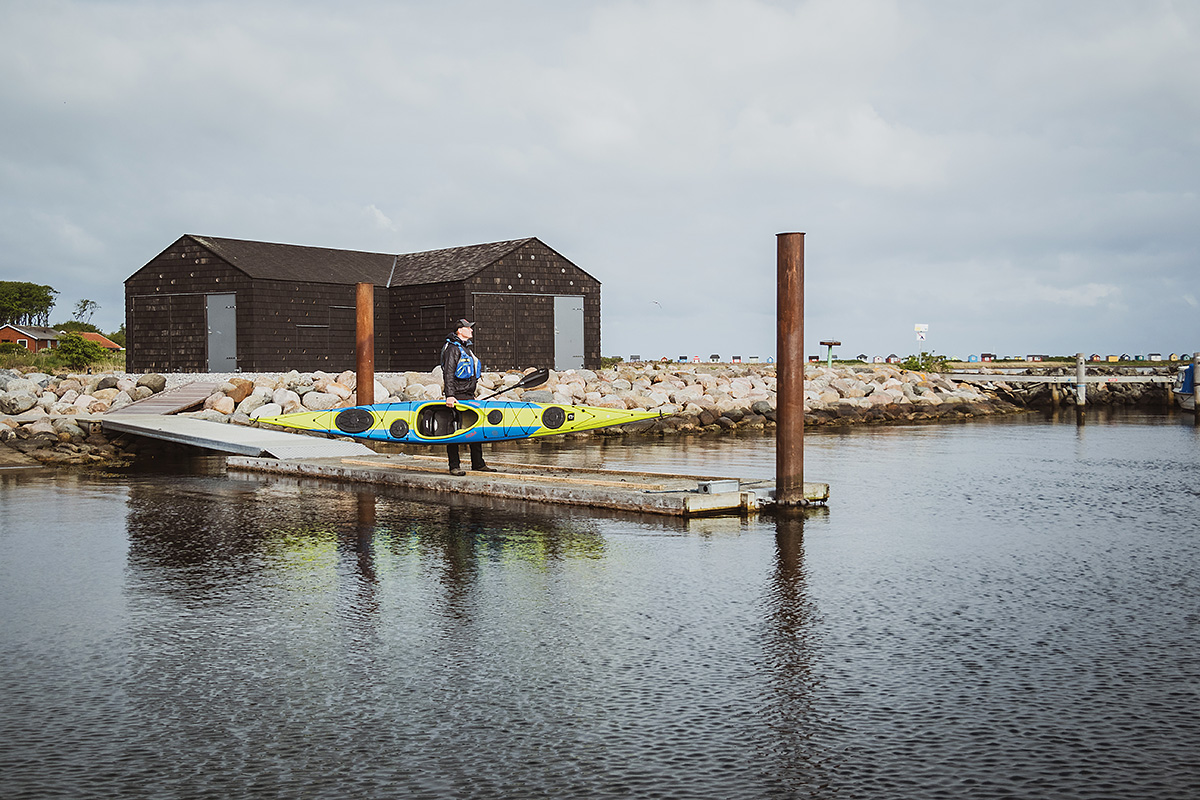 Discovering the cityscapes from the water gives the whole new experience of Copenhagen. Photo: Jacob Bols
Copenhagen harbor & channels
Paddling in Copenhagen harbor is quite unique. Here you can discover the heart of Copenhagen, old harbors, small and narrow corridors filled with boats, old beautiful buildings mixed with new architecture, e.g. the famous new Opera building and the Queens palace. You can paddle in a handful of small channels where you can find a special Kayak Bar where you can get a cold beverage just after you have passed the Parliament. You can also paddle to the most famous area Nyhavn, that is well known for the many restaurants, pubs, coffee places and so on. This is a colorful harbor with many old ships laying there.

You can also visit the sculpture of The Little Mermaid in the northern end of the harbor area. If you want to go for a longer trip, you can visit some of the old forts outside the harbor, that were built to defend the capital.

Paddling in Copenhagen during summertime can be quite a rush because it attracts tons of vessels on the water, such as speedboats, Harbor ferries, kayaks, SUP-boards, boats for rent and most likely anything that can float. So stay alert, if you go there for a summer evening paddle.
The Danish Archipelago
A very special area in Denmark is located in the middle of the country. The Archipelago is an area south of the island Fyn (Funen) where you have about 15 inhabited islands, and numbers of minor islands where you will find many different birds breeding. Many of the islands are, compared to the rest of Denmark, very unique. It seems like time has stopped. Lives are lived different here. It feels like travelling back to 1920 or so. It is really fascinating.

The Archipelago is, as far as I know, the only place in Denmark where you can get a Guide Book for sea kayaking, which advise routes and shelters / campsites. The area is really great for new paddlers that want to go for a multi-day paddle trip. It is easy to plan a route according to wind directions and so. Hopping from island to island is fairly easy, as the crossing distances are mostly within 4 to 8 km. Most of the islands have shelters or campsites. I have been here several times and one thing that comes to my mind is that I always meets big, beautiful, old schooners. I don't know exactly why but I think the ships are training ships, and they come here because there is much navigation work for them.
The Danish Archipelago. Zegul Bara A-core, Bayspirit. Photo: Jacob Bols; Daniel Villadsen
Ærø (Aero) island, located in the South of Funen Archipelago, is considered to be the loveliest island in Denmark. Picturescue tiny beach houses in Ærø. Jacob Bols with his Zegul Empower 3D C-core. Photo: Daniel Villadsen
One of the most iconic islands here is Ærø (Aero). Ærø has two major harbors and cities, called Ærøskøbing and Marstal. Marstal is the Maritime epicenter in Denmark. It is a cozy little village with small houses. The harbor is busy and lively. There are a old museum telling the maritime history in Denmark, which is quite exciting. Ærøskøbing is only about 10 km north-west from Marstal. It is an extremely beautiful, old town. Everything looks almost exactly like how it did 100 years ago. It is amazing. Don't miss a walk here.
Porpoise and seals are very common here as well as the Sea Eagle. In the harbor of Svendborg theres living a real dolphin. It often follows the ferries going from Svendborg to Ærø, but when the ferries are in the harbor the dolphin stays and plays around. I have met it once, where it jumped out of the water several times near us in the kayaks.
The Crossings
As a separate topic, I will mention one of the things I find great about Sea kayakinig in Denmark. "The Crossings". There are many places to cross, so according to your skills, you can plan your route so you can manage it.
One of the things I find attractive about these crossings in Denmark is, that several places there are significant current. This means you'll have to plan your crossing according to the current and wind.
One of the bigger crossings I have made, was from Jutland to Læsø. It was 26 km in straight line, but both wind and current were across, pushing north, so during most of the 26 km crossing I had to compensate nearly 40 degrees on the compass. The distance was so great, that at some point I couldn't see land anywhere. The larger cargo ships were passing behind me, closer to the mainland.
It felt like a great success when I paddled straight into the harbour, at the exact compensated heading. In straight line I had to keep 80 degees but compensated I was on 120, and the last kilometer into the harbour, I was going 120 degrees. It's geeky but fun!
I find this navigation part of these crossings really fun and challenging. You'll have to keep your focus on the compass for hours and keep a heading which sometimes can be quite off, but when you manage to hit your destination, it really pays off. And here's a little detail: I was paddling in a Zegul Arrow Play kayak. Play, Empower and Bara kayaks all has a recessed compass-mount, where the high quality Silva P-70 compass fits perfectly. This helps you, together with the trim, to stay on the right heading.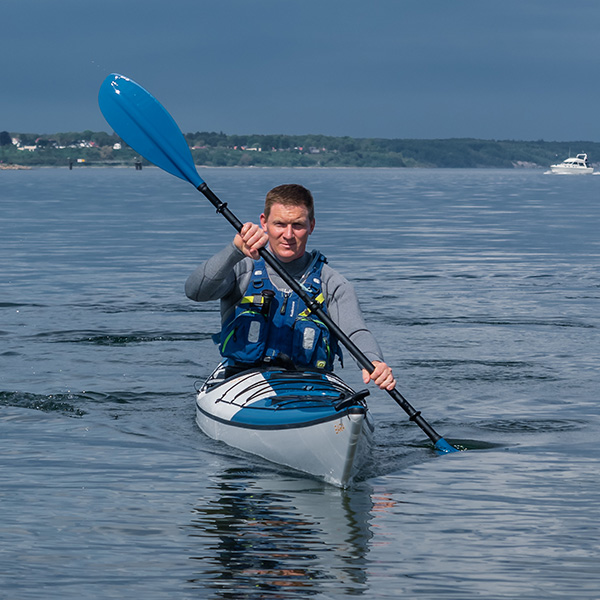 Zegul ambassador Jacob Bols is keen Danish kayaker and photographer. For more information have a look at his Instagam page: @jacob_bols
---