Zegul Supports Estonian Kayaking
Liisi Siibak (Zegul Kayaks)
Paddling nation
Values matter. Our primary goal is to do our job well: to produce and sell the best SUPs, kayaks, canoes, and paddles. However, it's equally important for us, as an Estonian company, to contribute to the local kayaking community. One way we do this is by sponsoring and supporting paddling marathons.
Paddling marathons are widely enjoyed in Estonia and are easily accessible. Throughout the season, there are approximately 10 marathons available to anyone interested in paddling. The largest and most renowned of these is the Võhandu Marathon 100 km.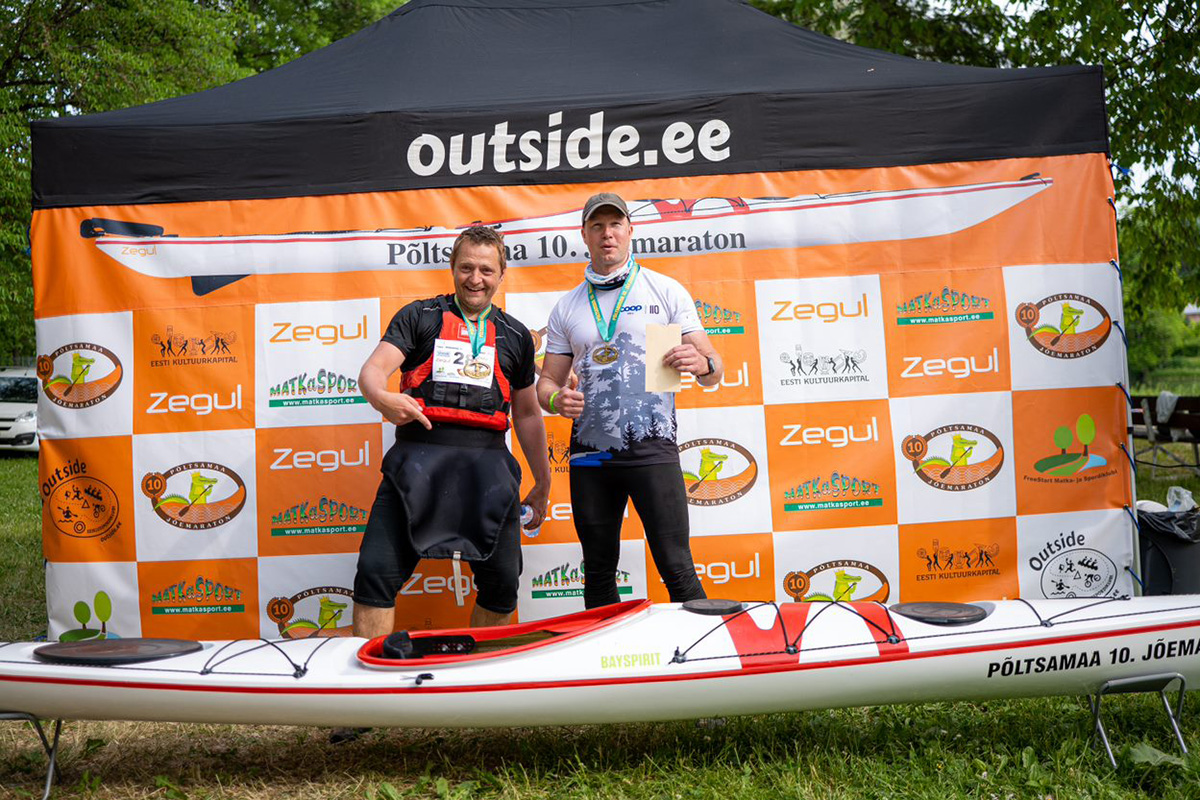 This year, we supported 5 paddling marathons:
22.04.2023 - 18th Võhandu Marathon, 100 km
https://www.vohandumaraton.ee/en/
18.06.2022 - Põltsamaa 10th River Marathon, 71 km / 20 km
22.07.2023 - Abruka Sea Kayak Race, 40 km / 27 km
26.08.2023 - Emajõe River Marathon, 56 km / 37 km / 18 km
03.09.2023 - Lahemaa Marathon, 24 km / 9 km
https://retked.ee/en/lahemaa-marathon-2/
A big thank you to all the outstanding organizers and volunteers! These events promote kayaking as a sport and lifestyle, diversifying opportunities for recreational sports.
We are competing also
The other half of our support is setting an example. "Leading by example" is something we like to do, and encourage our team, collaborators, friends and clients to participate.
This year, we participated in five marathons with a team of six, tackling both long and short distances with Zegul Arrow Play LV, Reval LV, Greenland T, Searocket, Torpedo, and Multisport kayaks.
Our CEO, Derek Vaide, participated in two of these events and secured a 3rd place finish in the K1M class during the short-distance sea kayaking competition at the Lahemaa Marathon.
All together we paddled at marathons 368 kilometers.
A heartfelt thank you to everyone who assisted with preparations and provided training recommendations, with special appreciation to Andres and Olga Kaju!
Zegul Kayaks team & collaborators, friends at the 2023 paddling marathons. (Photos by: Evalotta Zacek, Egert Kamenik, Kristjan Kivistik, Urmo Liblik, Üllar Sõmera, Taavi Tenno, Ivar Hütt, Inga-Bel Lilium, Kersti Allikvee, Sirli Marmor)
Estonian Champions in Sea Kayaking Andres Kaju & Indrek Kermon, womens category: Linda Tetsmann & Anette Baum (HUUM Sauna Kayak Team). (Photos by: Ivar Hütt, Kersti Allikvee)
Our kayaks are loved by paddlers
At several competitions, paddlers on Zegul kayaks achieved top positions: Andres Kaju and Indrek Kermon (Reimann Retked) won the Estonian Sea Kayaking Champions title with the Torpedo kayak, followed closely by Kayak Realm teams with the Torpedo and Wind Duo kayaks at the same event (Lahemaa Marathon), Linda Tetsmann and Anette Baum (HUUM Sauna kayak team) won the champion title in womens category with Wind Duo.
Andres and Olga Kaju secured victory in the long-distance Abruka Sea Kayak Race with Torpedo, Timo Vares and Mihkel Kõiv took 3rd place in the K2M category at the Võhandu Marathon with the Wind Duo. Linda Tetsmann and Anette Baum (HUUM Sauna kayak team) claimed the top spot in the women's category at the Dordogne Integrale 360 km marathon in France with the Wind Duo kayak.
Congratulations on these victories, and a big thank you to everyone who has chosen to train and compete with Zegul kayaks!
---